WP Easy Uploader was created to make the life of WordPress bloggers easier by allowing an Administrator to add plugins, themes, and any type of file to WordPress directly from inside WordPress. You no longer have to load up an FTP client just to try out that latest plugin or to upload a text document for people to download.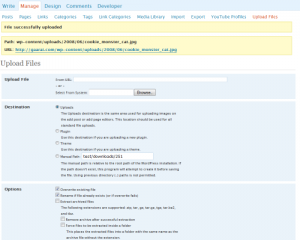 Current Features
Upload any type of file to either the standard Uploads directory (just as images do when you are creating posts and pages) or to a path of your choosing.
Manual paths are automatically created if they don't exist.
Easily upload plugins directly to the plugins directory and theme files directly to the themes directory.
You can select to have archives automatically extracted to their destination. This means that plugins and themes will be taken care of for you, but it also means that you can zip up a large set of files and upload them quickly into a folder on your site. Currently zip, tar, gz, tar.gz, tgz, and tar.bz2 archives are supported.
Options for overwriting existing files, renaming the fle if a file with that name already exists (or if overwriting fails), removal of the archive after file extraction, and forcing extracted files to be contained in a folder.
Thanks to File_Archive developed by Pablo Fischer, I was able to provide the extraction ability irregardless of server operating system. I have not tested his code extensively since I only have access to Linux-based servers. If you have any problems with the extraction ability, please contact me.
Planned Features
Customizable permissions to allow for users with privileges below Administrator to upload files. My idea is for Administrators to have full access to all the uploader's functionality while people below Administrator won't have access to upload themes, plugins, or to manual paths and won't be able to overwrite files or extract archives.
If the above is implemented, I'd like to provide a menu of options for tailoring what minimum access level is required to access each function.
Also if the first item is implemented, I'd like to add logging in order to keep track of who uploaded what and when. This would be useful for keeping track of anyone (such as a contributor) who is using the file space inappropriately.
Warning
This plugin does have the ability to overwrite any file inside your WordPress site as long as write permissions for the web server are enabled for that file and the overwrite checkbox has been selected. This means that you can overwrite the wp-config.php file if you tried to. So, always make sure that you are paying attention to what you are doing.
Requirements
WordPress 2.2+ – This is as far back as I've tested the plugin. I've gone through each iterative version backwards, and I have yet to find a version back to 2.2 that this plugin doesn't work with. If you have different results, please let me know.
Versions
1.0.1 – released on June 27, 2008
Initial concept
1.0.2 – released on June 28, 2008
Updated to support WordPress Mu
1.0.3 – released on June 30, 2008
Added support for PHP 4
1.0.4 – July 2, 2008
Fixed compatibility issue with the BackUpWordPress plugin
1.0.5 – July 2, 2008
Internationalized the plugin; now it's ready for translators
1.0.6 – July 6, 2008
Added Turkish and Spanish translations. Fixed compatibility issue with the WeatherIcon plugin. Fixed parsing error with Windows servers.
1.0.7 – July 8, 2008
Added mainland Chinese and Brazilian Portuguese translations. Added 2.6 support.
1.0.7a – July 10, 2008
Added German translation.
1.0.7b – July 21, 2008
Added Indonesian translation.
Thanks
Download
Please visit the WP Easy Uploader page on WordPress.org to download. Further information and installation instructions can be found there.
Donations Welcome
If you would like to donate to this project so that I can devote more time to development on this plugin and others like it, please click the button below. Thank you.